Living room furniture – traditional or with storage?
Living room furniture – traditional or with storage?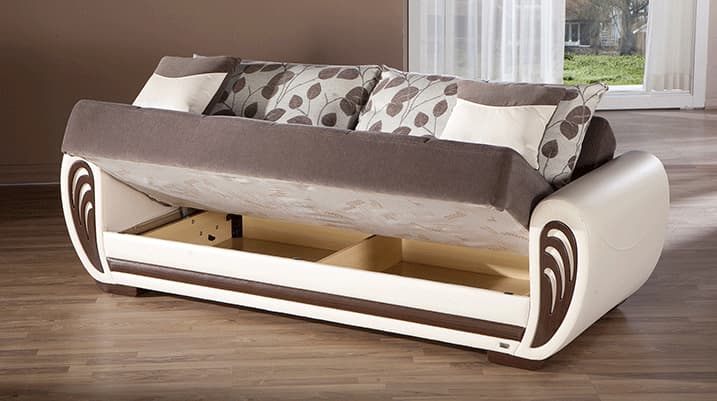 That's a great debate in modern world of furniture manufacturers: what furniture to produce, old, traditionally-styled pieces with wooden frame and leather or fabric covers, filled with foam and pads or use a spare space inside the sofas, to produce a nice, practical storage?
It's not an easy question. For sure.
Regular style sofas besides the lack of storage compartment are really serving sofas number 1 purpose: be comfortable peace for seating. That is, to be honest, the primary thing sofa need to do. Obviously, if sofa has a great base, foam filling and a lot of space beneath it: it will be comfortable no matter what. It is true in most cases. The question of hardness or softness is up to manufacturer: too soft or two hard is obviously bad, however, harder sofas tend to be more age-stressful and last, generally longer. Overall hardness is usually kept somewhere in between and varies from manufacturer to manufacturer. Global Furniture are usually making harder-feeling furniture, but Coaster Furniture, for example is known to build more American-styled softer sofas in general.
Of course, if storage is considered as a must-have feature, it will be a part of sofa structure. And we have a lot of great examples of this principle's use from some of our furniture producers.
A lot of great furniture pieces are manufactured this way, so they can be 3 thing in one: sofa, i.e. seating piece, sleeper (the back folds down to get the sofa to the bed position) and storage. This is a great example of how versatile regular furniture piece could be. This approach however, only has 1 downside: generally, those sofas are not that plushy comfortable pieces that you can jump on. This is not a purpose, but a reason: those pieces simply do not have enough space for both foam, springs and comfortable 'go-into' space that cushion can go into. But the main mistake would be to thing that these are uncomfortable. They are NOT! They are generally more harder. That's it.
What type of sofa to choose then? It is completely up to you. Ones simply would be a little harder, but instead can serve you as storage + sleeping option if needed. If you don't need those features, you can easily go with traditionally styled sofas that would serve you for years. However, if you prefer all-in-one approach, the best manufacturers on our website to consider would be Sunset Furniture, Rain Furniture and Meyan
source : comfyco